There have been a lot of exciting changes and innovations happening here at Remesh! We're thrilled to share the latest features and improvements our team has been diligently working on over the last few months, aimed at enhancing your overall Remesh experience and accelerate your time to insights.
Watch the recording below where our product experts walk through the new updates that are now available in the Remesh platform, or keep reading for an overview. We're also giving you a first glimpse into how Remesh is leveraging large language models (LLM), a technology that has our industry buzzing as of late, so be sure to watch or read until the end for that exciting update!



Get to the Conversations you're looking for faster and easier
The new homepage layout makes searching, organizing, and managing your conversations a breeze. Plus, the dashboard is personalized based on the user's recent activity. Instead of hunting through different teams and folders, you'll have quick access to your top and most recent Conversations.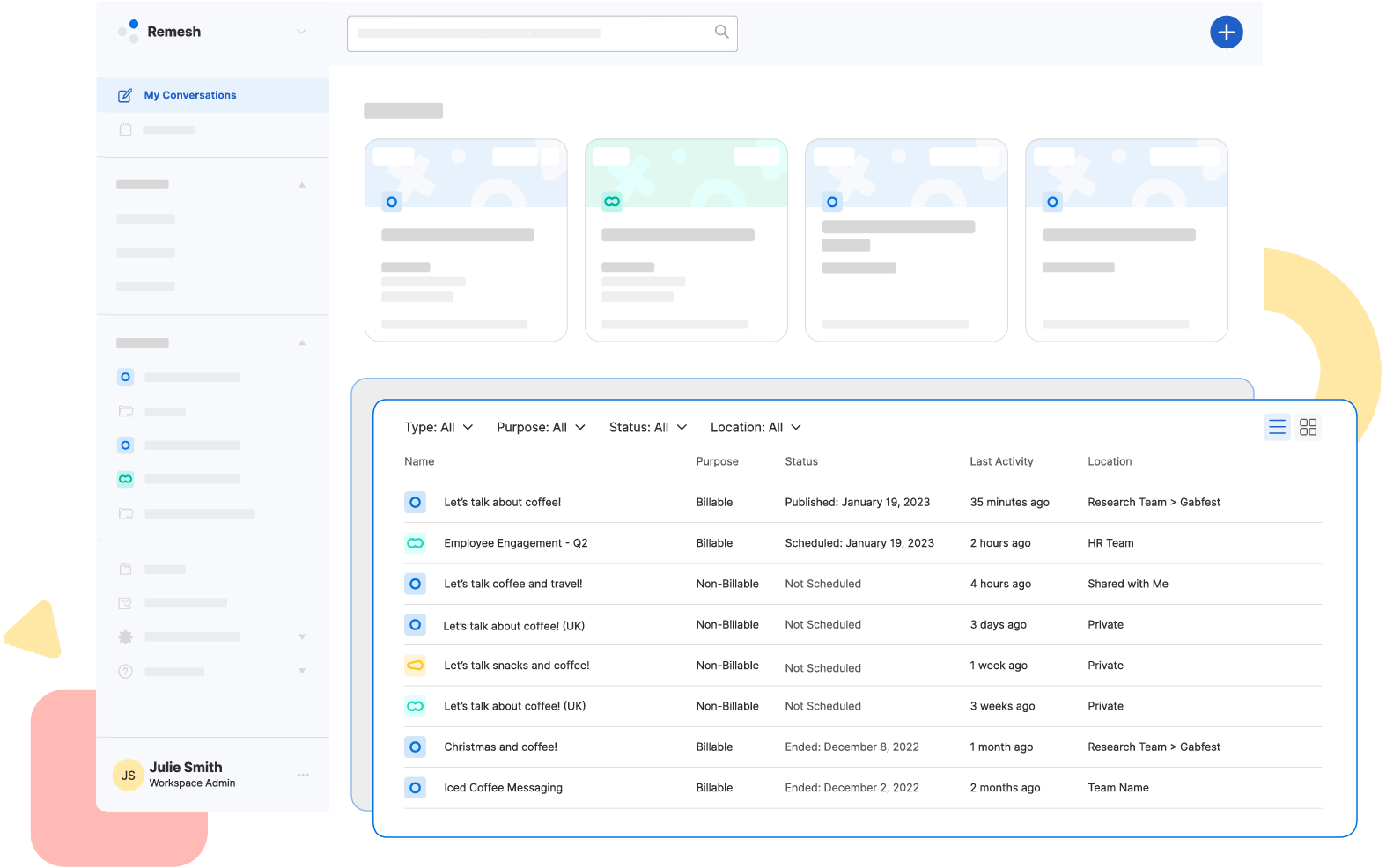 Spend less time managing your Remesh Live Conversation and more time analyzing
With AutoSend, you can let the platform automatically send items from your discussion guide, freeing you to do other tasks like analyzing your data or drafting probes on the fly. You have the flexibility to toggle AutoSend on and off at any point during the Live conversation.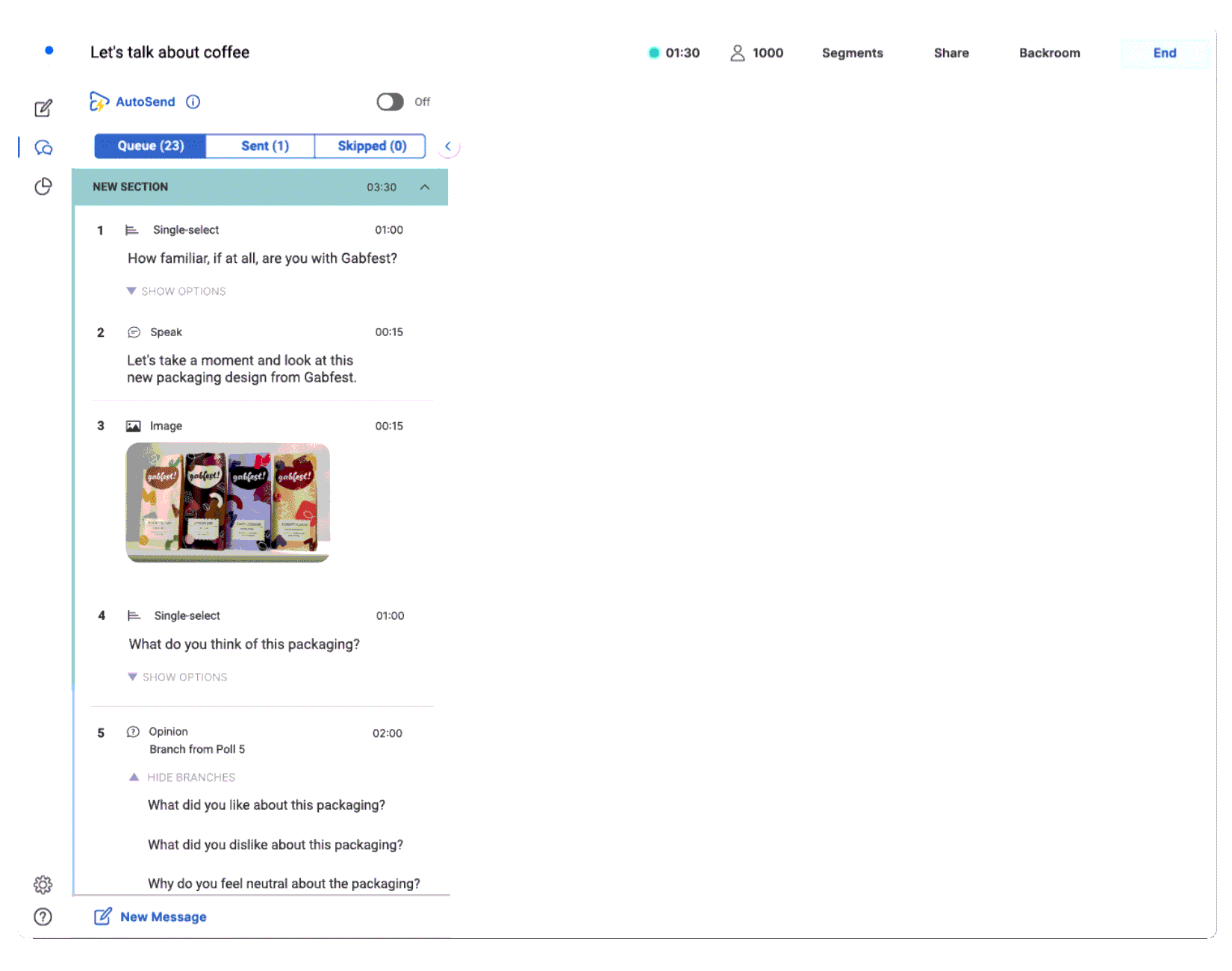 Easily glean the similarities between open-ended responses and start uncovering themes important to your audience
This is a powerful and time-saving new tool we're excited to share. Thematic Clusters identifies key themes among responses, and within these themes, uncovers who the people are that are responding — what segments they belong to, how much they are likely to agree with one another, and the overall sentiment. The Remesh algorithm analyzes each response to understand its meaning, eliminating the manual process of identifying similar responses. It's a real time-saver that we know you'll love.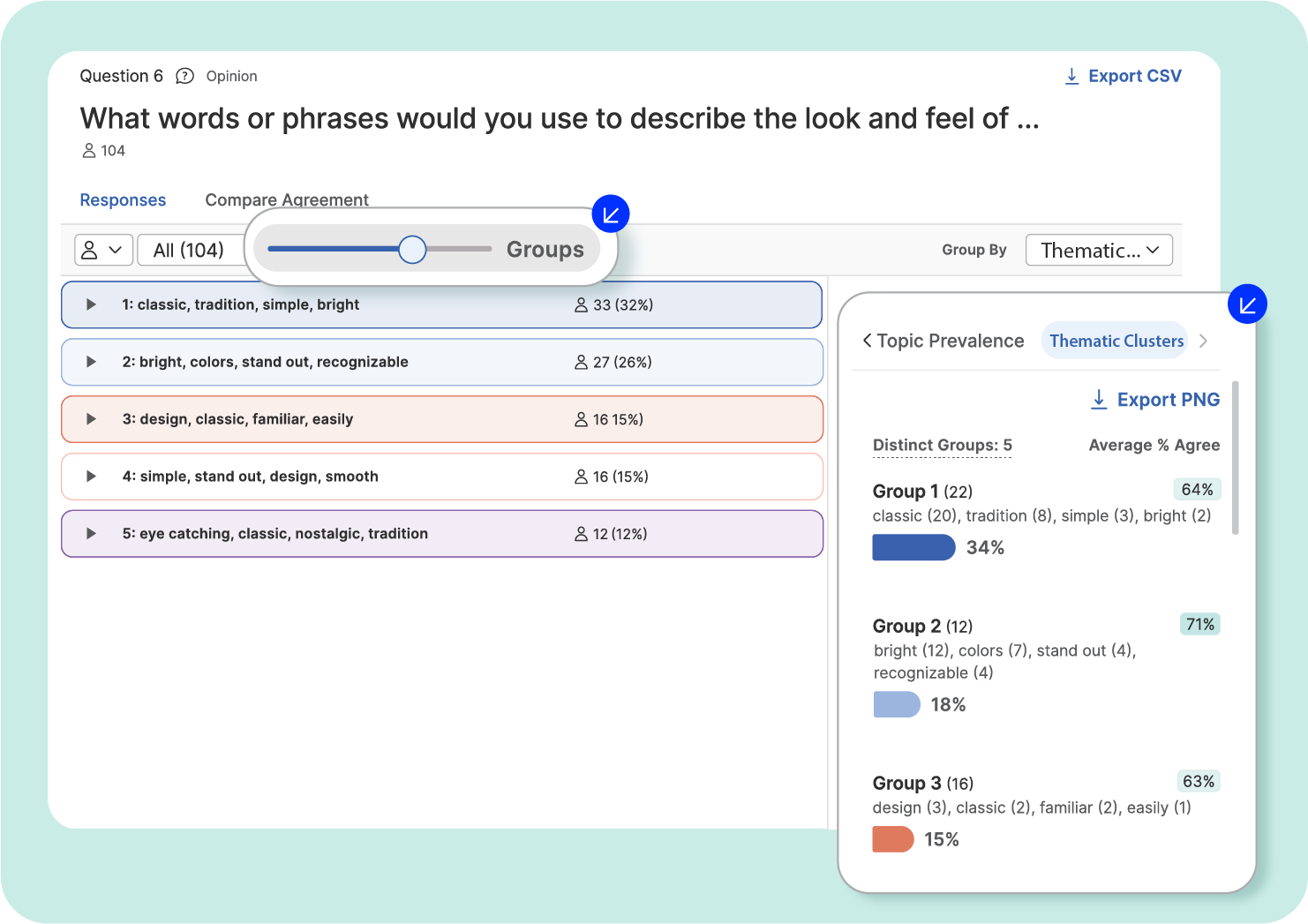 Analyze and understand key themes and topics using responses from every open-ended question in your Conversation
A question-by-question analysis can uncover rich insights, but sometimes it can be helpful to look at the bigger picture. Multi-Question Analysis gives Remesh users the ability to search key terms for responses from the entire Conversation, rather than just individual questions. This feature combines the best of "Common Topics" and "Search" available within the Tools menu.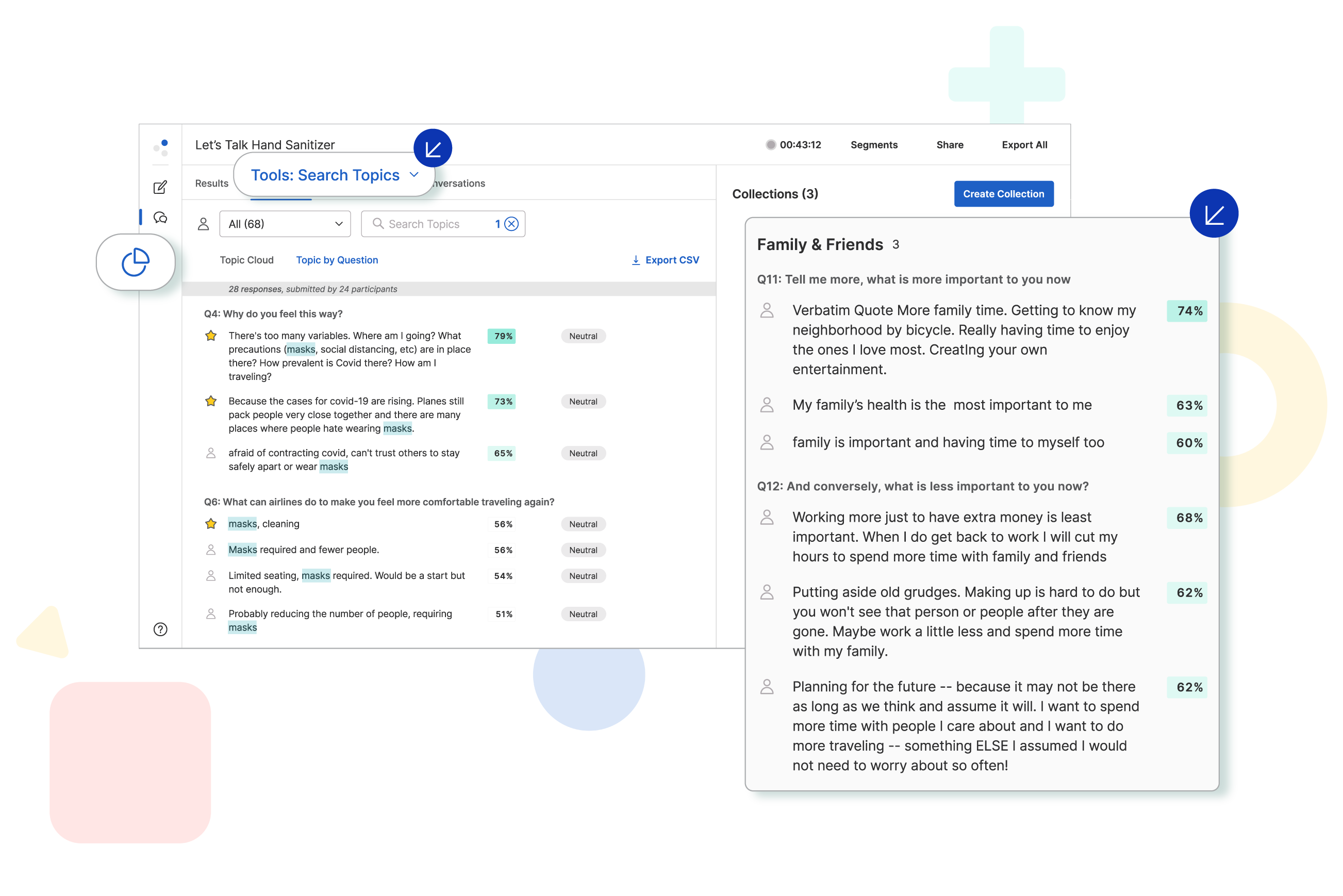 Build your discussion guide with more speed and ease
We've streamlined the discussion guide creation process with features that save you time and effort:
Bulk action edits: Select multiple questions at a time to make large-scale edits, including Duplicate, Move, Set as Optional, or Delete.

Unique participant link generator: Generate a CSV file with unique participant links. You can also change the default option to enable multiple devices to access each unique link.

Mark individual questions as optional: Set any message as optional if you're unsure about sending it. Please note optional messages are excluded from the overall conversation time estimate and are skipped when using AutoSend.

And more!

Our first introduction of generative AI, Summarize (Beta)

Save hours of time and get a headstart in the analysis process using the power of large language model (LLM) technology.
Large language models (LLMs) are reshaping the industry, and we're thrilled to share how we're using the technology to deliver speed to insights.
Our new LLM-powered Beta feature, Summarize, gives you a headstart in the analysis process. A big challenge many of our customers face is that they often have so much data, they wonder where they should even begin.
Summarize generates automated summaries both at the individual question level and at the overall Conversation level, giving you a fast first take at how participants are feeling and why. This can save hours of time and give researchers a strong indication of which themes and topics may be worthwhile to begin exploring further.
It's important to note that as we advance into this technology, we're committed to maintaining the integrity of our customers' research, data privacy, and ethical considerations. Dan Reich, CTO, shared how Remesh is approaching technologies like generative AI with caution.
"As a tech company, we have to be committed to staying ahead of the curve and adopting cutting edge technologies like this and all with the purpose of helping you and our users do the work better, faster, and more effectively … but we also recognize the importance of approaching these technologies with caution and responsibility. So by considering the ethical implications, providing transparency, and attempting to exercise responsible stewardship, we are trying to ensure that our use of these technologies benefits customers while upholding their standards as they choose."
---
Ready to see Remesh in action? Reach out to our team and will connect you with a dedicated product expert.