In today's fast-paced world of data-driven decision-making, efficiency and precision are paramount. We understand that every moment counts when it comes to research, and that's why we introduced a series of powerful new features designed to streamline your workflow from start to finish. Our latest product updates bring you enhanced capabilities that make every phase of your research process smoother, more efficient, and incredibly effective. Plus, we're excited to give you a first look at a new feature that will supercharge your analysis.



Research Design: Get help crafting a great Discussion Guide
During the research design phase, it's essential to formulate clear and effective questions. Discussion Guide Suggestions is your helpful assistant, suggesting ways to improve based on your own input. This helps you vet your questions before going through iterations with your team, client, and stakeholders. It's like Grammarly for research — you can choose to accept suggestions or leave it as is, keeping you in the driver's seat while putting an extra set of digital eyes on your work.
Practice and Showcase: Get a realistic preview to help you prepare and fine-tune your Conversation
Creating segments can be a somewhat tedious process. Our new feature allows you to skip past the manual creation of some of the simpler segments. Segments are now automatically created from Single-select Onboarding Poll questions for each individual poll option.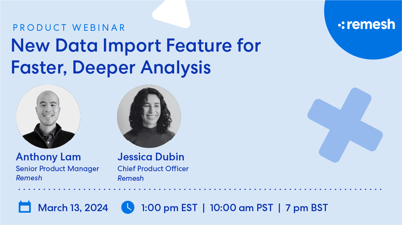 Analysis: Cut, visualize, and summarize multiple Conversations at once
After you've completed two or more sessions, you can now use the same time-saving tools to summarize individual questions or Conversations. All the Results capabilities like data cuts (including Segments & comparisons), visualizations, and exports are available. Merge now also works for even more question types – Opinion, Experience, Branch, Poll, and Rank. That means you can summarize multiple Conversations at once — talk about time savings!

Automatically code responses to quickly establish a solid framework for exploration
You've asked for a way to quickly tag and visualize open-ends, and your solution has arrived. Auto Code (BETA) leverages Generative AI to automatically code responses, allowing you to surface, visualize, and filter key themes even faster. This feature is designed to fit seamlessly in your existing workflow and can be used in-platform or exported as CSV files — whichever aligns with your process.


All of these enhancements are designed to fit seamlessly into your existing process, streamlining your workflows so you can do more, faster. Embrace the future of research with confidence, knowing you have the tools to elevate your research.
Sign up for our newsletter to stay in the loop about upcoming events and feature launches that can improve your experience!