We've been busy here at Remesh! We're excited to share all the new features and enhancements the team has been working on over the last few months to elevate your Remesh experience. This past quarter we particularly focused on two key themes: ease of use and speed to insights.
Check out the recording below for an overview of the new updates you'll see the next time you log in to Remesh, or keep reading for a synopsis. We're also sharing a sneak peek of what's coming next — including a powerful and highly-anticipated new feature you won't want to miss — so keep reading until the end!


1. Ease of Use
We're always striving to improve the Remesh experience so you can focus more on insights and less on logistics. Take a look at three new features that make your research process with Remesh even smoother.


Spend less time creating segments with
auto-segment creation
Creating segments can be a somewhat tedious process. Our new feature allows you to skip past the manual creation of some of the simpler segments. Segments are now automatically created from Single-select Onboarding Poll questions for each individual poll option.



Get the best of both Remesh Live and Remesh Flex using the

new reopen feature
After you've completed a Remesh Live conversation, you can now continue the same conversation asynchronously. This can be especially beneficial if not all your participants could make it to the Live conversation, but you still want their actionable feedback.
Previously, in order to do this you had to create two different conversations (one using Remesh Live and one using Remesh Flex), and then merge the two after. The reopen feature saves you time and keeps everything in one conversation for a cohesive participant experience.
Remesh Flex is our asynchronous product offering released last quarter. You can learn more about Remesh Flex here.


Automatically map and merge data from multiple conversations using the new

on-platform conversation merge
There are still situations when it's necessary to have multiple conversations and merge them together, which is where our new on-platform conversation merge feature comes to play. This feature can save you a significant amount of time!
Previously, merging conversations required the manual tagging of each question you wanted to merge. Now the process is simpler, more automatic, and more flexible. In fact, there's zero setup required before your conversation.
Simply select the conversations you want to merge, and Remesh will do the rest — right within the platform. Data will be automatically mapped from your selected conversations for faster and more efficient analysis.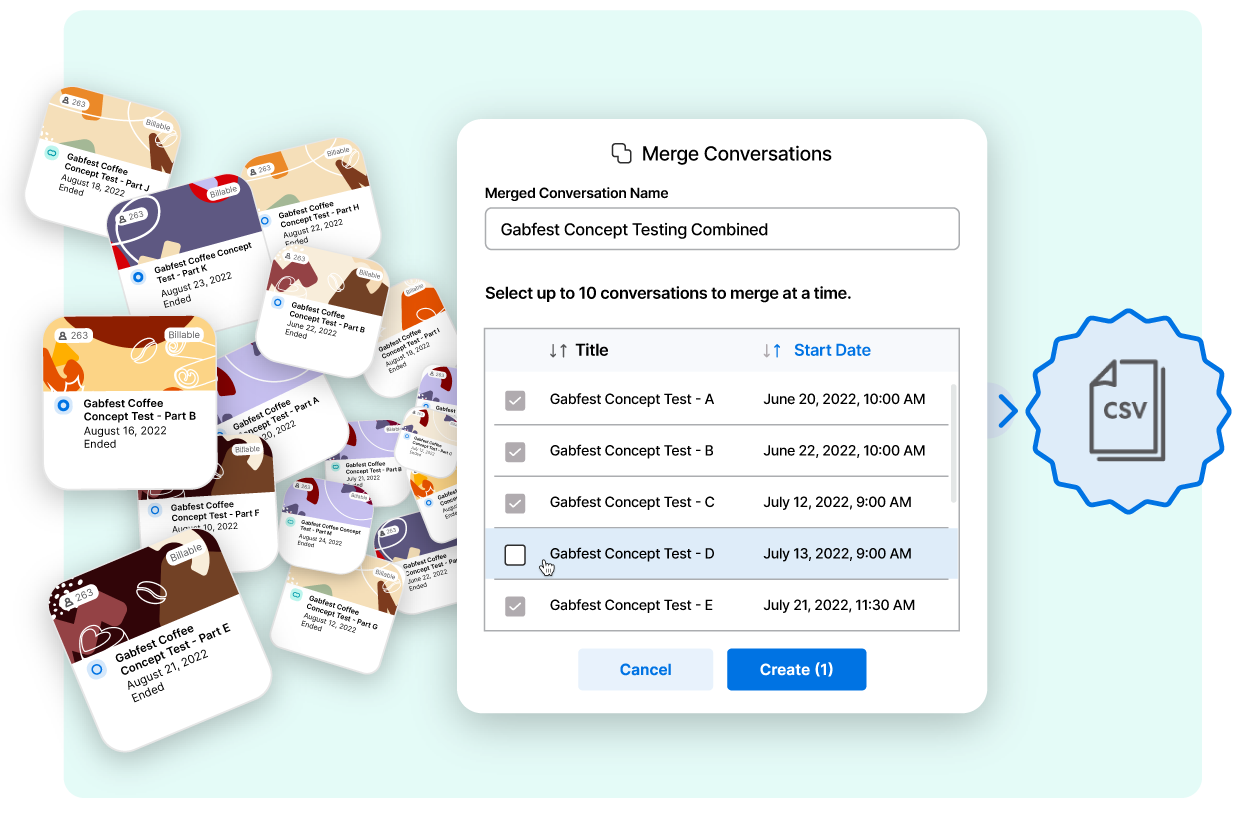 And if you do want to make any manual changes after it's been automatically mapped, you still have the flexibility to do so.


1. Speed to Insights
Dig deeper and build dynamic visuals with

Analysis Results enhancements
Since we launched Results back in April, we've been working behind the scenes to make improvements, especially around qualitative analysis.
Some enhancements and new features you'll notice include:
A customizable topic cloud visual for the Ask Opinion question

Expanded segment comparison view with up to five segments for side-by-side comparison

Category chart visual for the Ask Experience question
Analysis Results empowers users to cut and visualize data in a new and unique way. You can learn more about the Analysis page here.

Easily recognize the overall tone of responses with

Sentiment Analysis
We're excited to share our new Sentiment Analysis feature, which organizes Ask Opinion responses into positive, neutral, or negative sentiment categories.
With it, we've also introduced a new sentiment chart, which helps to visualize the overall distribution of responses for a given question, or a data cut within that question.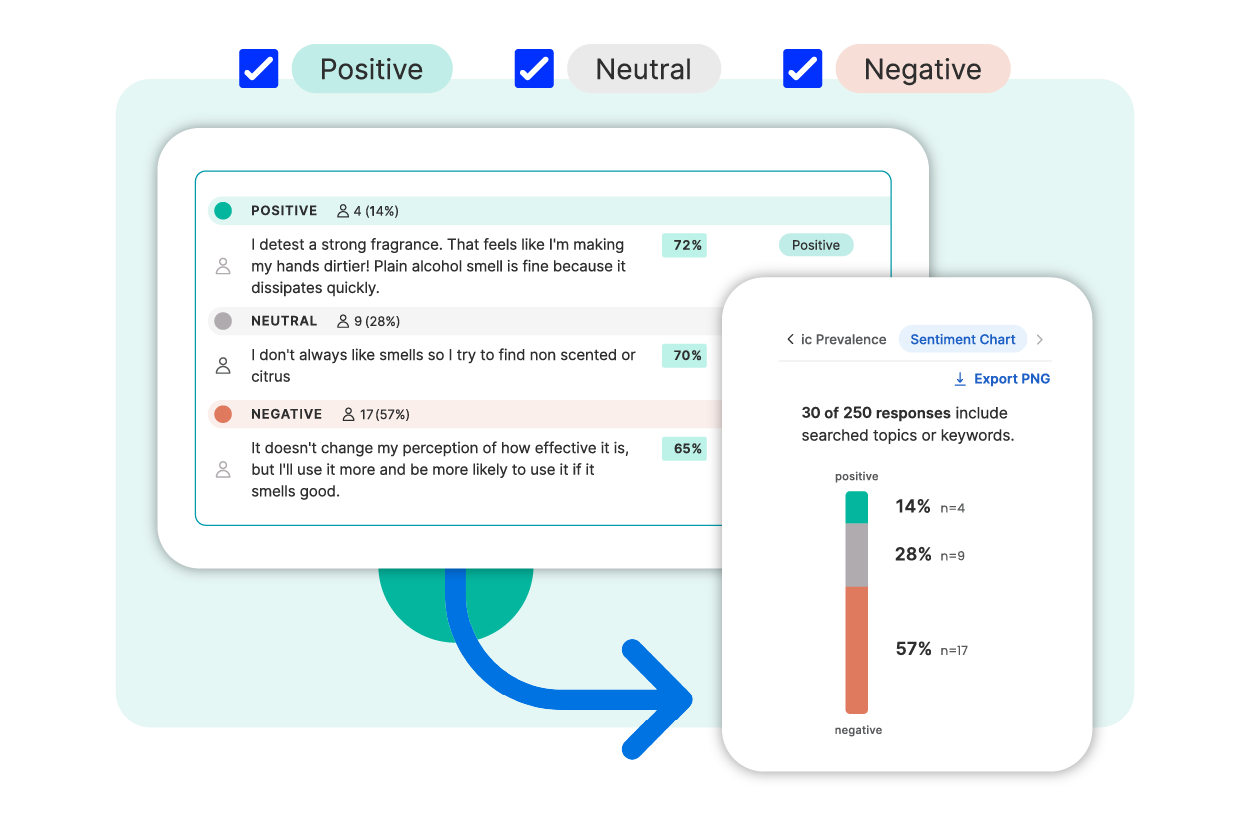 We've heard from customers like you that this way of framing up qualitative data is integral to your thinking and to your analysis process. In response, we've brought this process directly into the Remesh platform to make things simpler and faster.


The Remesh Platform: Looking Ahead
We're continually investing in new technology to unlock more effective and efficient research. For the remainder of the year and looking into 2023, we're heavily leaning into our unique use of machine learning to make it even easier for you to ask and analyze open-ended questions.
Here's a glimpse at some capabilities to look forward to:
Surface interesting themes and outliers that you may want to follow up on using AI.

Organize similar responses to make analysis easier using cluster analysis and our own proprietary semantic model.

Gather input from virtually anywhere and then leverage Remesh's powerful analysis capabilities with the anticipated Embeddable Remesh Flex

.
We're especially excited about the possibilities with Embeddable Remesh Flex. You'll be able to harness the power of Remesh anywhere research happens — another site, online survey, pop-up, etc. More to come soon! Stay tuned.