Here at Remesh, the first quarter of 2022 has been full of exciting news! Most notably, our team has officially developed and launched a new asynchronous product offering: Remesh Flex. Flex has the same AI-powered engine as Remesh Live, but now offers increased flexibility for both participants and moderators.
Alongside Flex, our team has been innovating on the Analysis features in the Remesh platform. Now, experience enhanced reporting that will allow you to quickly understand, visualize, and share conversation results.
A batch of smaller product updates has also been launched since Q1 of 2022. These feature enhancements improve the general usability of the platform.
Watch our Q1 product webinar below and experience a deep dive into both Flex and Analysis guided by product experts. Plus, see what product changes are coming up in 2022!




Remesh Flex
Reach a wider audience by offering a flexible and self-paced qualitative research experience — powered by AI.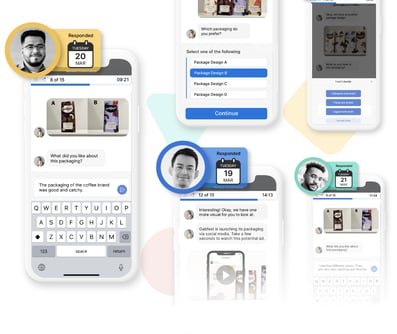 We've heard from our clients that it's sometimes difficult to get certain audiences in the same live conversation. For both market research and employee research, participants can be hard to reach. Our solution to this problem is the new asynchronous, Remesh Flex.
So, how did Remesh solve this timing problem for participants? Flex provides your audience with increased flexibility by allowing them to join a conversation when they want, where they want. This open conversation increases response rates and engagement all while providing researchers with rich qualitative and quantitative data on the back end.
On the moderator side, we've also been busy adding enhancements to the Remesh experience. In a Flex conversation, moderators can now rotate or randomize sections of discussion guides. This Flex exclusive feature helps eliminate order bias and brings more confidence in decision making.
We've also built in quota capping that you can monitor in real-time. Reach the quotas you've set to ensure you connect with the right audience and get the most from your conversation.
A flex conversation can be open for days, and once you've collected enough data, you have the option to end the conversation early to dive into your results and uncover meaningful insights.
Through the introduction of Flex, we've discovered a few unique ways that clients are adding Flex to their research process. Some clients have preferred to use Flex as a standalone conversation, while others have paired Flex with Live to truly capture and understand the "why" throughout every stage of their research process.


Analysis
Dig deeper into individual question responses, apply or create new audience segments, and build dynamic charts that can be immediately exported and shared with stakeholders.
Sorting through post-session data can be a time-consuming process, but with our latest Analysis update, we've been able to streamline the process.
The Analysis feature transforms participant feedback into presentation-ready visualizations in minutes. You can now bring quantitative responses to life with intuitive charts to understand voting distribution or rank order for response options or important audience segments.
For open-ended responses, surface trends and themes for specific audience groups using the algorithm-powered Common Topics feature or via manual search.
Need to step away from your work? With Analysis, you are able to download valuable conversation insights with a single click. After creating unique data views, you will be able to save those data views and continue editing once returning to the platform.
After viewing and analyzing the conversation's results, users can easily export all the conversation's findings via Powerpoint, CSV, or PNG formats in pre-designed presentation formats.


Feature Enhancements
Catch up on all the other product updates we've launched since the beginning of 2022.
Earlier this year, our team developed a tool designed to make organization even easier. Discussion Guide Sections help users arrange discussion guides into sections to make it easier to manage and edit in both Live and Flex conversations.
Seamlessly transition to the next part of your research phase by using End Message. After a conversation has ended, moderators will have the ability to send tailored follow-ups to select audience segments.
Finally, we've added a confirmation to end a conversation and prevent accidentally ending early. Once a user clicks "End," a pop-up modal will appear asking the user to enter their email address to confirm this function.


2022 Product Vision
A quick brief on a few features that will be launching over the coming year.
Our major goal for 2022 is to keep building a unified research platform where clients can run a wider variety of projects to answer their pressing research questions quickly and uncover insights not possible on other platforms.
User feedback and requests will continue to guide us in building Remesh. One thing that clients have articulated to us is the ability to have the right participants in a session. This critical aspect of the conversation is currently being developed by our team so users can recruit, invite, and remind audiences directly on the platform. This feature will improve Remesh's audience and set-up functionality.
Finally, we are continuing to invest heavily in analysis and reporting. Remesh aims to make it even easier to uncover insights and then take that analysis off-platform. Ultimately, we want to ensure that you can quickly deliver a data-backed narrative to your clients or stakeholders.
We've got an exciting year ahead of us and are so glad that you're here along for the journey!